Finishes and styles
Natural and Stained Wood Finishes
All of our woodwork is made of 100% natural wood from renewable forests. Differences in color, grain, appearance and texture are inherent in all natural woodwork, and should be expected. Variances in these qualities add uniqness to each item. Colors of wood samples displayed here are intended to represent the average appearance of each wood finish, and should not be viewed as exact representations of every individual piece of woodwork.
Standard painted colors are not an accurate representation of the actual finishes and should not be used as color guide. We also offer custom colors that can be matched to any selected paint color.
Natural wood changes color over time, it becomes lighter or darker depending on the light and element exposure and the initial color of the wood. All furniture pieces intended for adjacent or in the same room installation should be ordered and installed the same time. Although painted and stained finishes offer a better color stability in a long run, all furniture installed together should be ordered at the same time as different paint batches will vary slightly. While the paint and stain variances from batch to batch will most likely be almost indistinguishable across different furniture pieces not placed side-by-side, items placed end-to-end might not have a perfect 100% color and hue match.
Countertop Materials and Finishes
SOLID SURFACE STONE is a man-made consistent throughout material with the following benefits: care-free maintenance, high scratch, heat, stain, and impact resistance, non-porous and resistant to chemicals surface. Care-free maintenance*.
QUARTZ is also a manufactured consistent throughout material that is similar in wear to Solid Surface Stone, but can resemble more natural stone in appearance. It features care-free maintenance, scratch, heat, stain, and impact resistant, non-porous surface. It is resistant to most chemicals but should be cleaned with cleaning products between pH 5-8. Care-free maintenance*.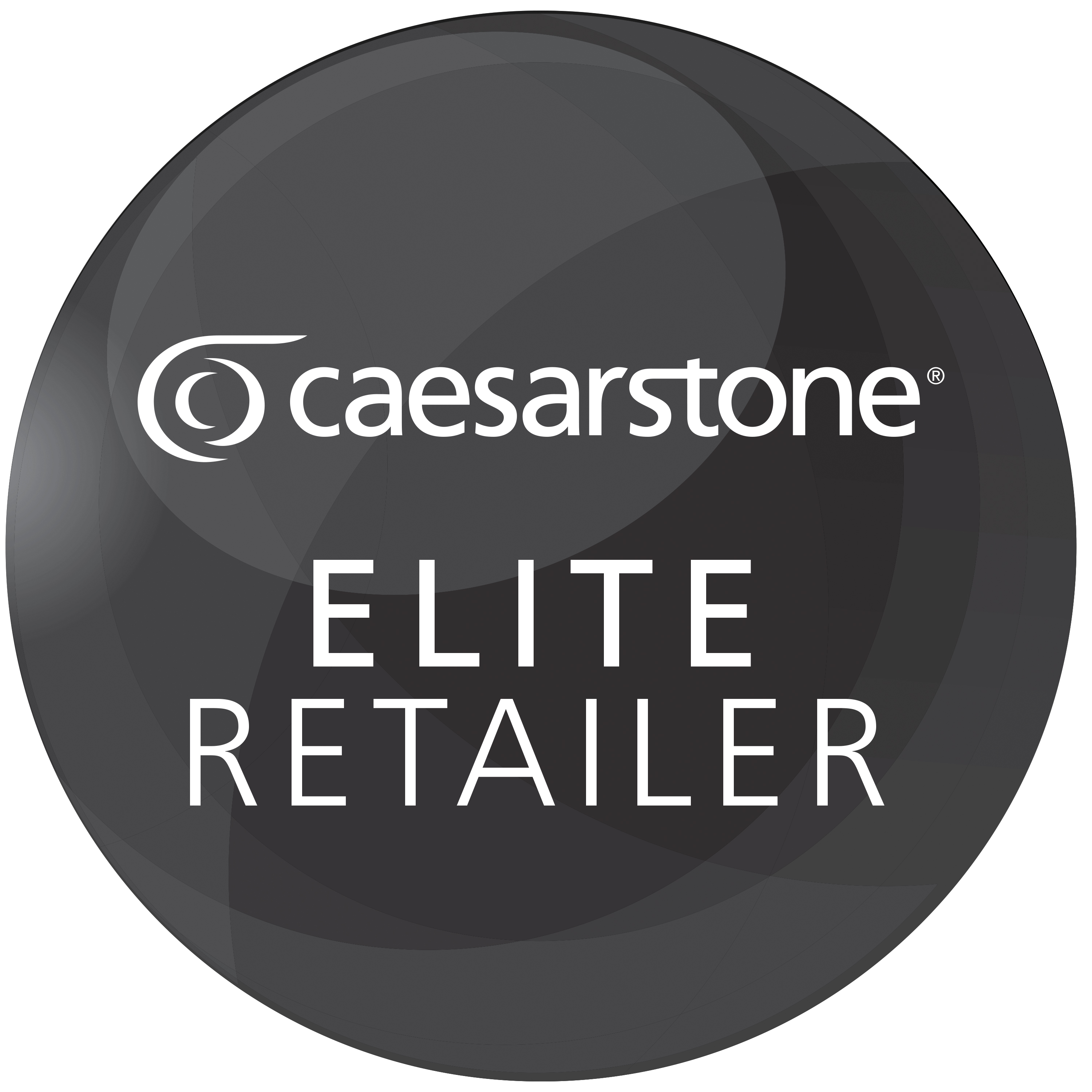 Caesarstone Elite Retailer
Finally, NATURAL STONE is the most unique and fragile material. Its natural origin makes each piece different and tends to be more fragile than the maufactured materials. It requires regular sealing and cleanign with mild soap to prevent the porous surface from staining. It is, howerver, heat and scratch resistant. Natural stone is subject to large inconsistencies and variations. Other stone options quoted upon request. Athens has very prominent crystallized cross veins that look like cracks. If such feature is not desired, other stone finishes are strongly recommended.
*Care-free maintenance indicates the material can easily be cleaned and does not require care other than regular cleaning. Scratch resistance refers to normal use. Sharp and pointy objects, like blades, can scratch and damage most surfaces including the above materials. Heat resistance indicates the surface will not melt or obtain marks from high temperature expected in normal every day use. Abrupt temperature changes or exposure to extreme and prolonged temperatures that are not expected in daily use might cause marks, damages, or cracks. Impact resistance refers to the surface being able to withstand the force of small every day objects falling on it, e.g. a cup, soap dish, etc. Tools, large and heavy objects or other unwarranted impacts that are not a part of daily use can cause damage and cracks. Please follow the sealer's manufacturer instructions.
Metal Finishes
We offer various metal finishes on our metal consoles and metalwork. In addition to the previously offered polishes stainless steel and brushed stainless steel finishes, the very trendy finishes of brushed brass, and matte black are also available now. The metalwork is produced in Chicago, all the different sizes and styles of our metal consoles are available in those new finishes with very short lead times.
Select faucets and accessories are also offered in matte black, brushed gold, polished nickel, brushed nickel, and of course, polished chrome.
The closest matches between the different metals are as follows: polished chrome and polished stainless steel, polished stainless steel and polished nickel, brushed nickel and brushed stainless steel, brushed gold and brushed brass.